Sep, 24
Warlord mode and moddable map generation
I'm slowly wrapping up the Alpha 31 update, and while it won't be nearly as massive as the previous patch, it will bring two very interesting features.
Warlord mode
Having to say 'goodbye' to your Keeper when retiring a dungeon can be sad for some players, and I've noticed that a lot of you like to share screenshots of your retired dungeons, and your Keepers' stats. To give your retired dungeons a longer life, I've added a new 'Warlord' mode, in which you once again take your retired Keeper and your minions on an escapade against other retired dungeons.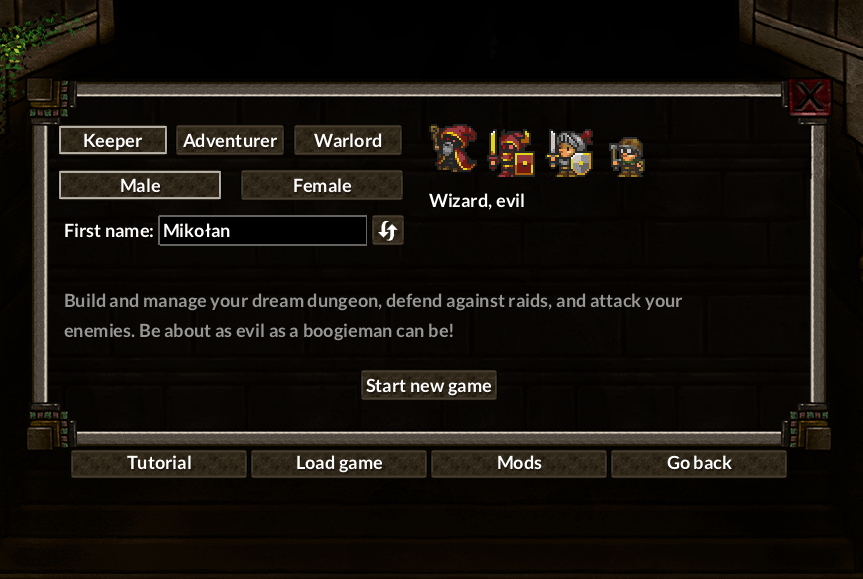 In this mode you don't have access to your retired dungeon any more, but you assemble a team out of all your minions, and travel between other retired dungeons of your choice.
Since the games will be quite short, the warlord mode will give you an opportunity to come back to KeeperRL in short bursts, without having to start another dungeon or adventurer game. It will also let you visit many more retired dungeons.
The new mode unlocks once you retire your first dungeon.
Moddable map generation
As I've hinted in the past, I've been working on a scripting language dedicated to procedural map generation. The language is now incorporated into KeeperRL, and several maps in the game already use it. The benefits over the old system, besides moddability, is much faster iteration, since generated maps can be viewed using a command line utility without having to start the game and manually walking to the area that you're working on.

Almost all map generation algorithms currently used in KeeperRL are available in the script, so there is huge potential for modders to customize their own maps.
A testing build of Alpha 31 with the new features will be released on Steam soon, and meanwhile you can take a peek at the very preliminary documentation of the script.

COMMENTS