Dec, 10
Incoming combat improvements
The turn-based 'roguelike' mode is an important and distinguishing feature of KeeperRL, yet something that still causes a lot of friction for players. The main problem is that roguelikes are normally single-character games (outside of an occasional pet or companion), in which you make very frequent and fine-grained decisions. But in KeeperRL you typically lead teams of unlimited size, which either makes you dependent on disappointing team AI or forces you to take control of every team member, which slows down the game massively.
Improving the AI should make the experience much more pleasant, in particular for non-melee units, which until now had a tendency to get killed in the front lines of combat. The first, and biggest challenge was to identify effectively which units are non-melee, since a lousy bow doesn't turn an ogre into an archer. Ultimately the melee/ranged designation will be explicitly stated in creature definitions, which is something that modders will have to remember when adding new ranged fighters. The player will also have an option to override this setting for every minion, so you'll be able to tell your ogre with a bow to stay in the back of the squad.
Once a creature is known to avoid melee combat, the game checks for any offensive spells and abilities, and keeps just enough distance from the enemy to take a shot at them. The same logic will be used for non-combat creatures, like imps, which will automatically avoid enemies altogether.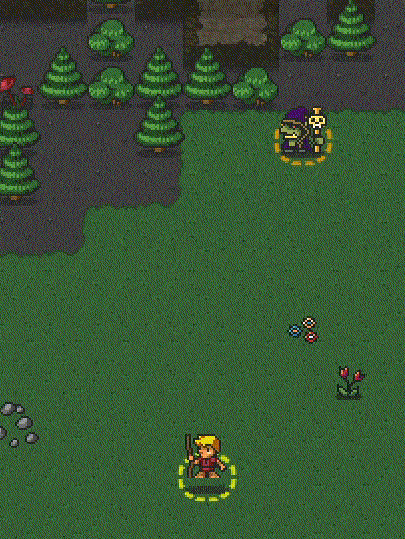 KeeperRL has special squad AI that causes creatures to assemble in simple line formations. To make it work nicely with non-melee creatures I've made them stay two lines behind by default. The game will also need to take special care of healer creatures, who have to stay close to the melee fighters, but at the same time try not to get slaughtered in combat.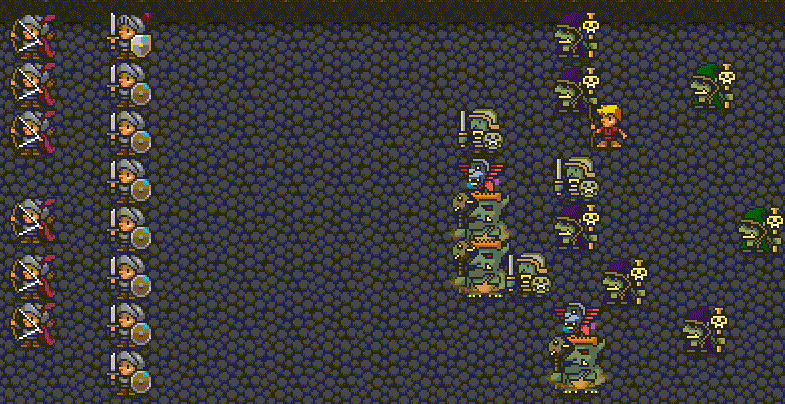 All these ideas are tricky to implement, since they need to work for all types of creatures and in different scenarios ranging from open areas to tight corridors. To help the AI a bit more, I've given more experienced archers and mages the ability to shoot past their allies, which you can notice in the above gif. This should make them even more effective and overall combat more satisfying.
While tweaking ranged combat, I've also added a warning for when you're about to attack you own minions with a spell or arrow, which should take care of the confusing situations when your own minion turns against you.

There has also been a more internal change, which reworked ranged weapons as spells/abilities. This makes it easier to define weapons with special properties, such as cooldowns, custom effects, attacks that hit multiple enemies at once, etc.
In other news, to give you more crazy experiences, the game will now feature a 'polymorph' spell. It will have a few variants and will be used by creatures in several different situations. I'm intentionally keeping the details vague in order to make the surprises more exciting. I encourage modders to check this feature out, since it allows creating some new, fun gameplay.

I've also added a new 'load game' menu, which will come before the character creation screen, because you usually load games more often than start new onces (unless you're very new to the game, ha, ha). It's very likely that I'll also design a wholly new main menu for the upcoming update.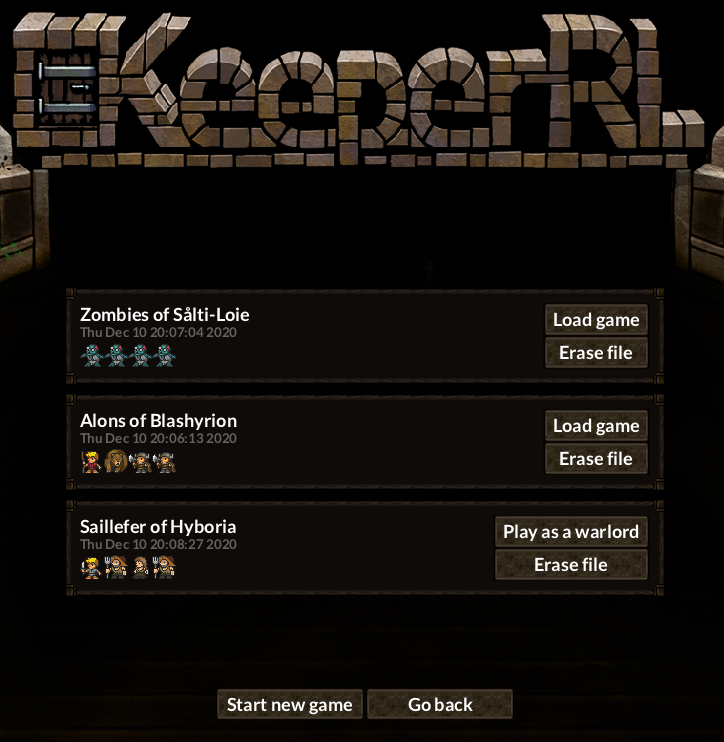 COMMENTS